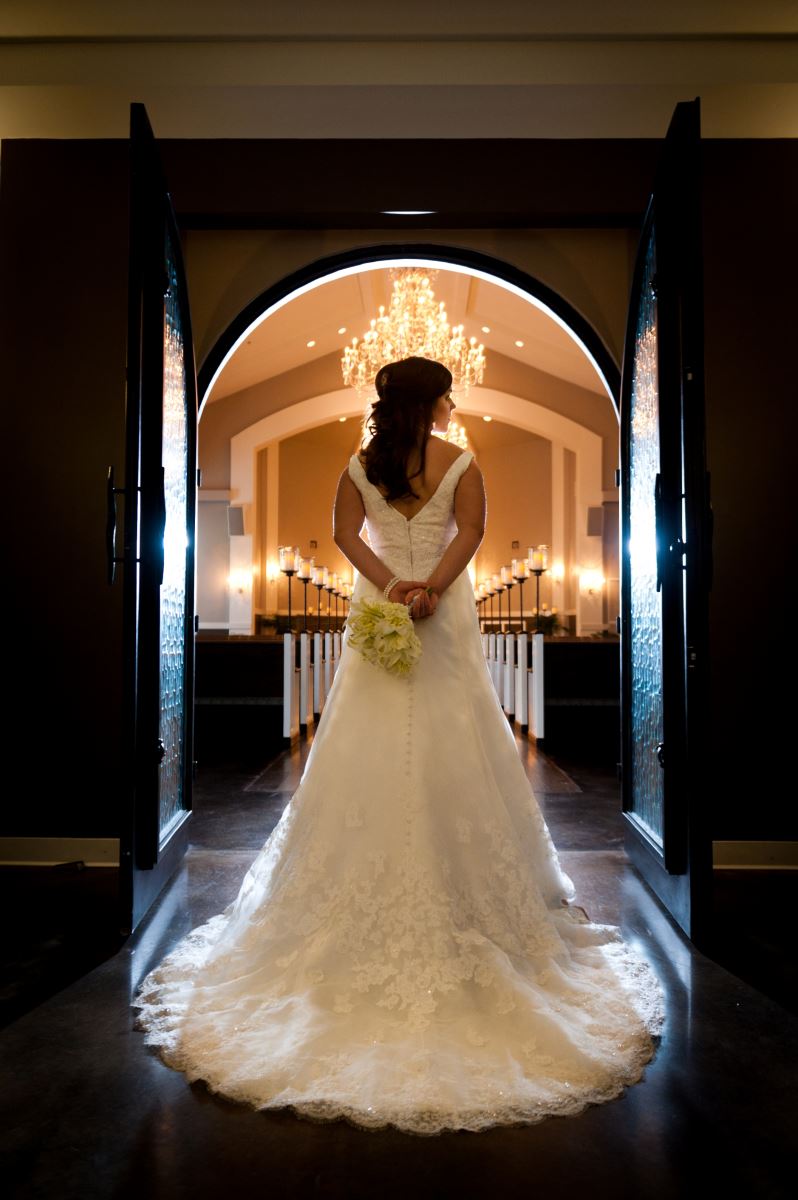 Bride Erin decided that she wanted a dress that was totally customized for her wedding back in 2011 (she used to work at a bridal salon, so had a unique perspective on the world of wedding gowns). So after mixing and matching different styles from different gowns, she sketched her dream dress and sent it over to the gown designer to create! Read more about her custom wedding gown below.
When was your wedding and where did it take place?
I got married on November 6, 2011 at the Piazza in the Village in Colleyville, Texas.
How long did it take you to plan your wedding?
We had an 11 month engagement so used the whole time to plan and prep for the wedding. We got a head start on planning and booked our venue within a week of being engaged! To keep everyone organized, I made a timeline and checklist for myself, my mom and my groom.
When did you know that your wedding gown was "the one"?
Going in to wedding dress shopping, I knew exactly what I wanted because I had worked at a bridal salon. I had been looking at bridal magazines since I was in high school and had picked out different parts of dresses that I loved. I ended up getting my gown from Brides & Beaux in Colleyville, TX and although my dress was a Jasmine Couture, I was able to choose the neckline from one dress, the bodice from another, the lace detail from a third AND the fabric from a fourth dress. As you can see I'm pretty picky, so this was a big plus for me!
I ended up sketching exactly what I wanted, then sent it off to the designer and factory, hoping that it would come back perfect. Thankfully it did and I ended up loving my dress!
What is your absolute favorite memory from your wedding day?
My favorite memory is of having all of my friends and family together celebrating love, joy and family. We both have large families and close groups of friends, so it was such a joy to see everyone get along together so seamlessly! It felt like everyone had known each other for years. We continue to have people, almost three years later, ask us to have another wedding because it was so much fun 🙂 That is exactly what I wanted for my wedding.
Why did you want to get your gown cleaned and preserved?
I most definitely want to wear my dress again if given the chance! Otherwise, I hope for a daughter so that she can wear it one day. I don't expect her to wear it on her wedding day, but her wearing it as a little girl would make for a very cute picture! Also, if I ever have a big enough house, I love the idea of displaying it in a huge frame or a shadow box. 🙂
Why did you decide to get your gown cleaned by a member of the Association of Wedding Gown Specialists?
My mom finally got her dress re-cleaned and preserved almost 30 years after it was first done. She went to Kite's Wedding Gown Specialists and they did an excellent job with removing much of the yellowing and stains. She brought along a few other heirloom pieces to be refurbished as well, so I trusted them to take care of my wedding dress. Plus, they do everything in-house which is an added bonus!
Photographer credit: Static Sixx Photography