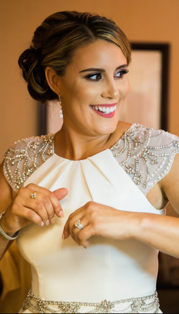 How did you and your husband meet?
We met right after college through a mutual friend.  I went to Akron University and he went to Kent State in Ohio and our colleges were only 20 minutes apart and we hung out with a lot of the same people, but never met until after college. 
How did he propose?
He took me to painting with a twist in Grapevine and proposed after we finished painting and taking our group picture I came back to my easel and there was a painting with sunflowers and a banner that said "will you marry me?" I turned around to find Todd on one knee and asking for my hand in marriage.
How long did it take you to find your gown and how did you know it was the right one?
Todd proposed to me in 2012 and we did not tie the knot until august of 2016 because I was in graduate school from jan 2013-august 2015. I had been trying on dresses for 4 years. I had tried on hundreds of dresses, so I knew what I liked and did not like. I have always loved the designer Jenny Packham and when I found out she did a bridal line I began looking into her dresses. I found the first dress at stanley korshak and fell in love with it as soon as I put it on. It had a neckline like I had never seen on any dress. I loved how it was silk and flowed yet had a beautiful amount of intricate crystals and the back jewelry sealed the deal. I happened to go to davids bridal looking for a bridesmaids dress for my friends wedding, when I found out that Jenny Packham did a bridal line for them. I saw one of her dresses on the mannequin and knew that I could not live without that dress. It was beautiful with jeweled cap sleeves. It was so simple yet so elegant at the same time, so it was decided at that point that I would wear two dresses. 🙂
What did he say at first look?
He was looking up to the sky trying not to cry and when got himself together he looked at me is mouth dropped open and he said "I don't think you can look more beautiful than you do at this moment right now, how did I get so lucky" and then proceeded to spin me around like a princess.
What is your favorite memory or what stands out most about your wedding day?
During the ceremony we were saying our vows and Todd reached over to wipe a tear off of my face. It was such a sweet gesture and truly demonstrated how much he cares and wants to always show me that he is there for me.