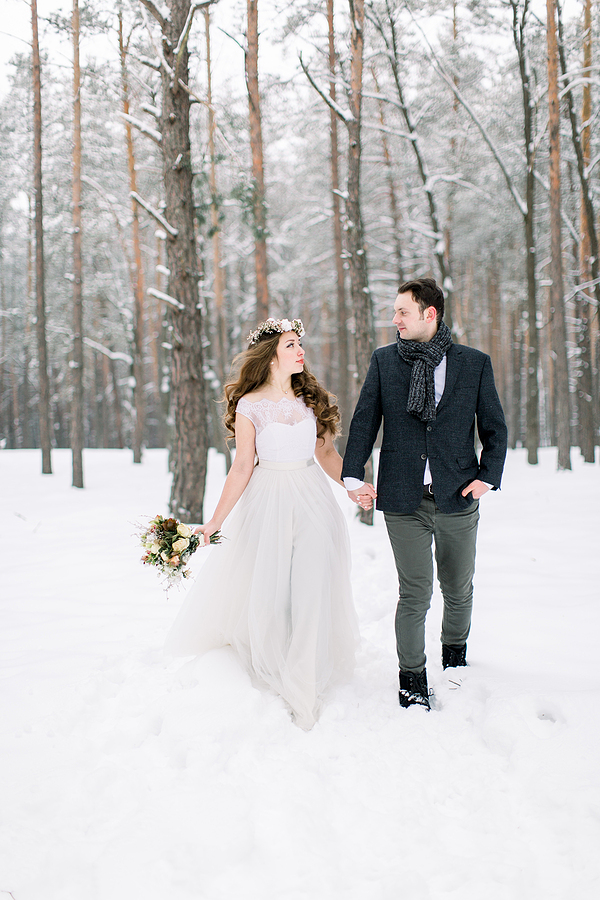 Can the snow harm my wedding dress?
Can sleet or snow affect your wedding dress years later? | Ft. Worth Gown Preservation
Snowy weddings are some of the most gorgeous events, and while they're incredibly beautiful and rare, you may find that winter weather finds its way to your wedding dress, even as you move from church to reception. Will the snow or ice affect your dress?
Kite's Wedding Gowns has served Fort Worth and all of North Texas for decades, and when it comes to weather, stains, and other imperfections, we're certified members of the Association of Wedding Gown Specialists and know how to handle them.
When you preserve your gown with Kite's, you won't have to worry about whatever made its way onto your wedding gown during your special day, because we have a multi-step process to address food, wine, and weather! Kite's Bridal is a Fort Worth favorite, and we serve clients all across Arlington, Westover, Ridglea, Weatherford, Aledo, and Grapevine.

Clean your wedding gown today AND preserve it for decades to come | Benbrook, Lake Worth, Azle

Our MuseumCare™ certified gown process is a one-two punch, because we both clean and preserve your dress. You might not realize the two are separate processes, but they certainly are! Cleaning your gown starts with a visual inspection and free estimate, depending on the level that a gown might have been soiled. (And yes, even beach weddings we can handle!)
Find out what clients on TheKnot, WeddingWire, and FW Mag have been raving about when you see how we're able to clean both visible stains and invisible stains, which appear with age and can damage your gown years later. Preserving your gown with D/FW's Kite's Bridal is an investment you'll thank yourself for long after.
After we've examined delicate lace and/or beads, we perform the preservation process, using a muslin cover to combine airflow and protection. Our cover allows you to see your dress without breaking the preserved seal, and should you wish to take out your dress someday, especially if another family member may wear it, we can reestablish the seal.
How to prevent cold weather from damaging your wedding dress | TCU Area Gown Preservation
Your dress is one of the most important keepsakes from your wedding day, so why wouldn't you take the extra step to clean and preserve it? Kite's Bridal has decades of experience with clients all across Richland Hills, Forrest Hill, and White Settlement, and we'll be there for your next gown preservation when you're ready.
Call us today at (866) 822-2554 and schedule your free consultation today! We can service gowns both from in-town weddings and out-of-state events, and also can provide pickup or drop-off in most cases.