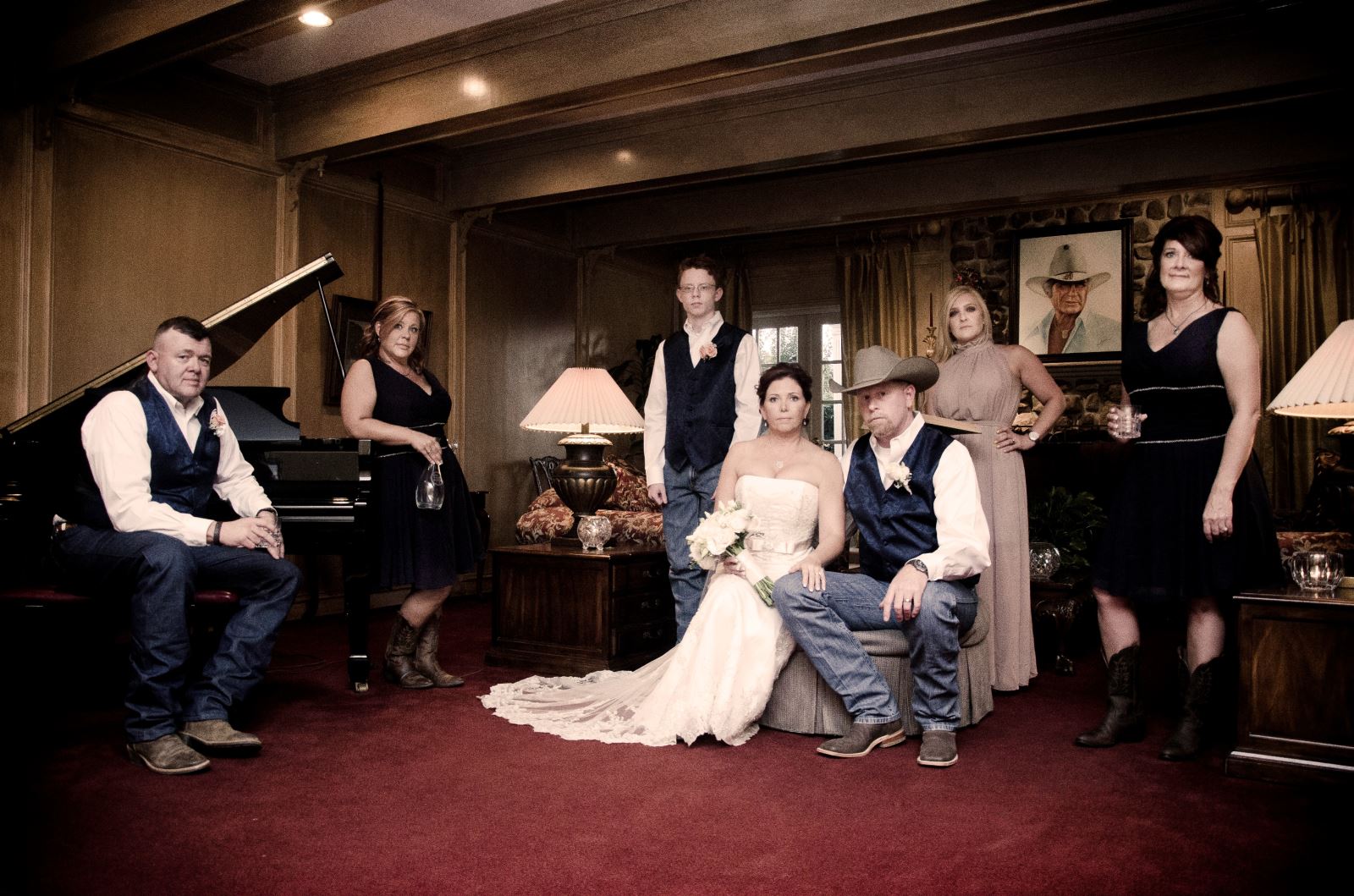 Bride Tracy had her fall nuptials at a famous Texas location–the ranch where the original version of the TV show "Dallas" was filmed back in the 80s. When it was time to say yes to a dress, she was looking for a wedding gown that had both a vintage and country look to complement not only this wedding location, but also the cowboy boots she planned on wearing on her wedding day. Read more about her Dallas-themed wedding and dress below!
When was your wedding and where did it take place?
We got married on October 25, 2014 at the Ewing Mansion & Gazebo at the Southfork Ranch. This is where the original Dallas series was filmed and was the absolute perfect location for our wedding!
When did you know that your wedding gown was "the one"?
I knew the gown was "the one" as soon as I saw it in person. I was looking for a wedding dress that had a vintage look that also fit in with our country theme. The dress was an Alfred Angelo purchased from Sunday's Bridal in North Richland Hills.
What is your absolute favorite memory from your wedding day?
I think I would have to say that my all time favorite memory from my wedding day was when my stepson got up and made an impromptu "Best Man" speech…and called me Mom for the first time, saying how proud he was to have me in his life. Needless to say there wasn't a dry eye in the house, mostly mine.
Why did you want to get you gown cleaned and preserved?
The decision to preserve my wedding gown was actually my husband's idea! He was very insistent about wanting it cleaned and preserved properly so that we would have it to remind him of the most special moment of his life, next to the birth of his son. I hope one day that I'll be able to wear it again on a big anniversary and relive that moment together.
Why did you decide to get your gown cleaned by a member of the Association of Wedding Gown Specialists?
The decision to work with Kite's Wedding Gown Specialists was an easy one–my amazing tailor Edward (from Tailoring by Rios) said they were the absolute best and would take perfect care of my gown. Based on the beautiful work he did, I absolutely trusted his opinion! They did a fantastic job on getting the stains out of the gown and I just love the preservation box where the gown is displayed.
Photography Credit: G. Shelle Photography