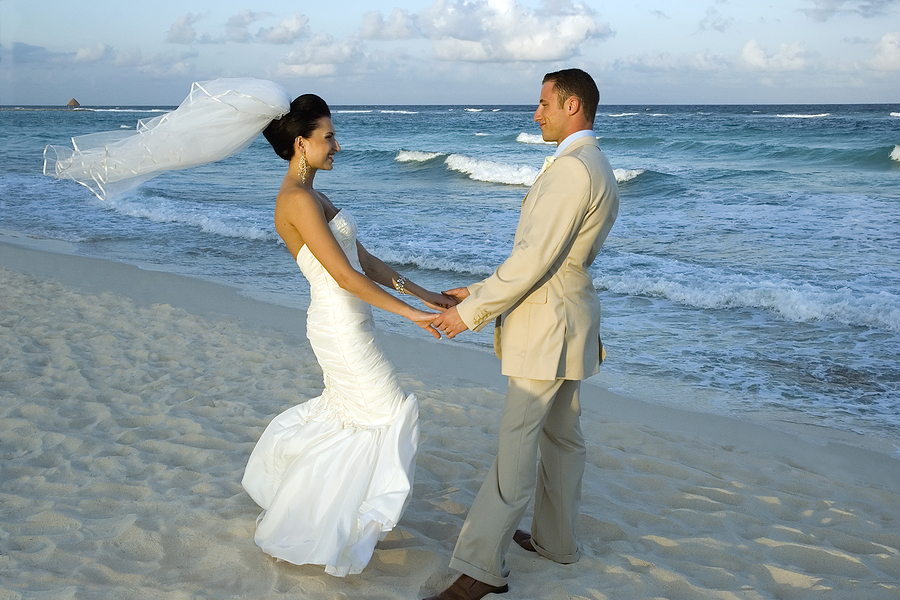 Are you wondering how you will get your wedding gown clean after Beach or Destination Weddings outside of D/FW?
If you're planning on a beach wedding in the coming months, you may have thought ahead to what comes after the vows and the great food: cleaning. If you're on some faraway island, can you have your dress properly cleaned if it's come into contact with sand, surf, or something else?
Yes! Kite's Bridal of Fort Worth serves brides all over Ft. Worth, Arlington, and Dallas both before and after their destination weddings, even if there's an entire honeymoon that takes place in between. If you're based near TCU, Westover, White Settlement, West 7th, or Benbrook, call Kite's Bridal at (866) 822-2554 for a free consultation.
Kite's Bridal is Cowtown's only certified Association of Wedding Gown Specialists member, and our ratings on WeddingWire and TheKnot are "Best of"! When you clean your wedding dress with Kite's, you'll get the very best of quality, timeliness, and efficiency.
Should you Dry Clean or hand wash a wedding gown damaged by sand or soil?
While dry cleaning is effective for many types of clothes, specialized gown cleaning is what you need if you've just tied the knot. When you clean a wedding gown in D/FW with Kite's, we'll address stains that are visible, like those caused by dirt or food, as well as invisible stains, which are caused by alcohol and sugars.
Not to mention, wedding gowns are delicate. While a dry cleaner may not pay careful attention to lace, beads, and other artifacts, when we take care of dresses at Kite's, we pay careful attention to each and every detail, which is why we're a favorite all across Richland Hills, Grand Prairie, Highland Park, Southlake, Hurst/Euless/Bedford, and Grapevine,
Our cleaning process starts with a free consultation, where we're able to estimate costs and turnaround time. Once your dress has been cleaned, we'll assess every detail in a post-cleaning consultation. And, should you choose to do so, we can provide your gown with MuseumCare™ preservation, which will maintain its shape and quality for generations to come.
Ok, but what about repairing damaged wedding gowns in the Dallas/Ft. Worth metro?
The short answer with Kite's Bridal is: OF COURSE.
If your gown suffers a snag, tear, or rip during the festivities (as so many do), the show must go on. Kite's Bridal is there to help when the show is over too. Repairs are just as crucial, if not more crucial, than cleaning. Repairs prevent further damage to fabrics over time, for instance. It's not something you want to take lightly, and that's why you trust it to the pros.
You'll have three keepsakes from your wedding day: your bands, your photos, and your dress, so call Kite's Bridal at (866) 822-2554 to get started stat. We serve clients all over Allen, Plano, downtown, Weatherford, Farmers Branch, Garland, the Stockyards, Pantego, Carrollton, and Burleson, so you're never too far away!