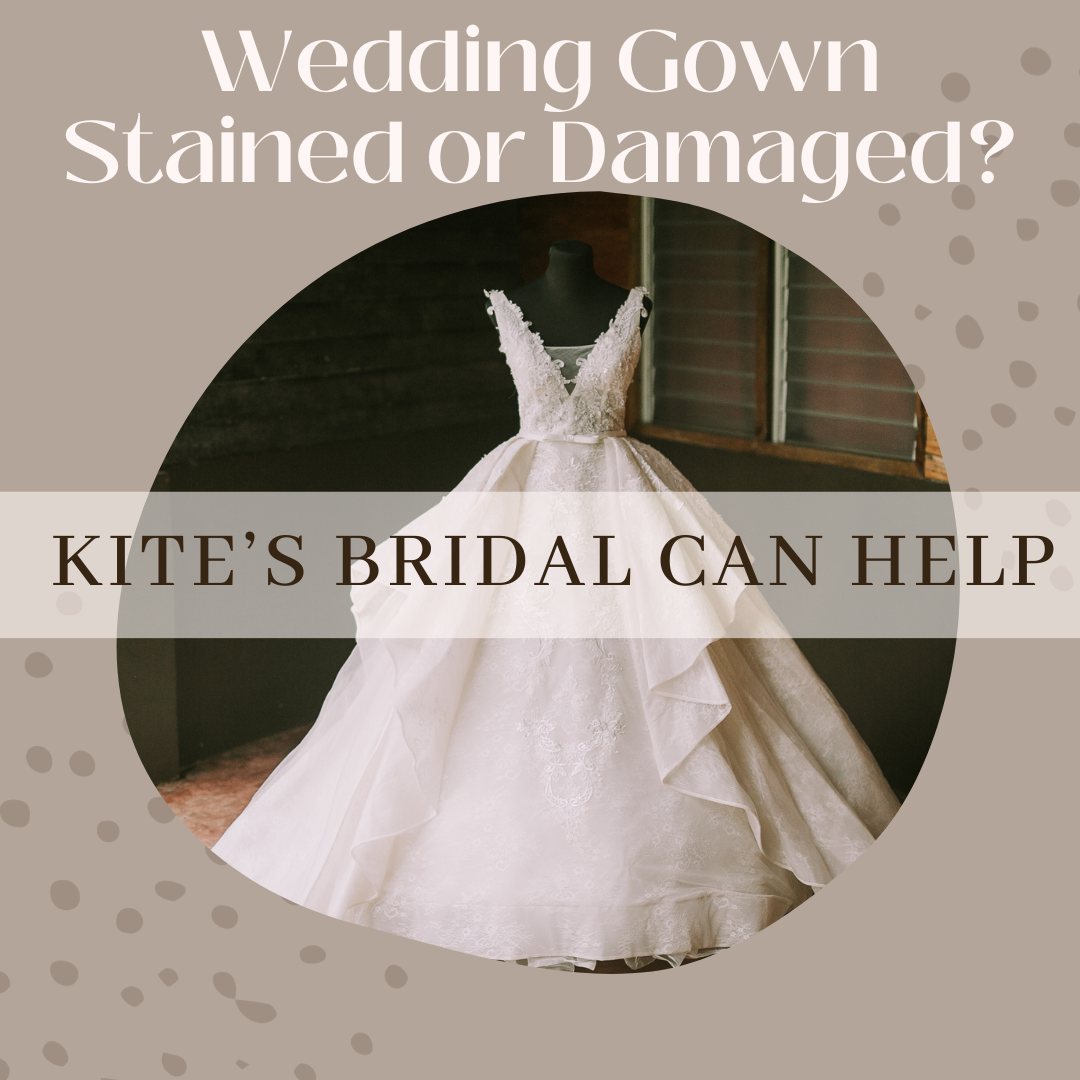 How to get stubborn stains out of your wedding gown | Ft. Worth / Arlington / Dallas
Whether you tied the knot in D/FW, at a venue in Allen, Plano, or downtown Fort Worth or Dallas, or somewhere else entirely, there is no shortage of foods, drinks, and party items that can leave a lasting stain on your wedding dress.
If you're trying to get rid of a blemish in your gown, you may be considering any number of options, which is why we've put together a handy guide to help differentiate at-home fixes, dry cleaners, and professional gown cleaning.
The good news is that North Texas has plenty of experienced gown cleaners, one of which has a certification from the Association of Wedding Gown Specialists. Read on to learn more about cleaning a wedding gown in Benbrook, Grapevine, Frisco, Southlake, or Highland Park.
Ways to clean and repair a wedding gown after the big day:
1. DIY: The do-it-yourself fad has exploded in recent years as brides and grooms try to save time and money planning their wedding and organizing decorations and more. While DIY is special when it comes to the ceremony, it might not have as good of an effect when it comes time to clean a wedding gown.
Even if you're able to get out visible stains from food or dirt, did you know that invisible stains from sugars and alcohol usually appear months or years later? If you can't see these stains, there's a good chance they'll appear and waste the time you spent on visible ones.
2. DRY CLEANING: Can dry cleaners get those invisible stains out? It's possible, but not probable. Dry cleaners use methods that work with the average formal clothing, and may work for the tuxedos, but not as well with bridal gowns. Moreover, dry cleaners may not be able to make repairs or protect delicate lace and beads.
3. D/FW PROFESSIONAL GOWN CLEANING: A professional dress cleaner is valuable in more ways than one, and at affordable prices that may even beat the DIY or Dry Cleaner options.
Grand Prairie, Garland, Weatherford, and Arlington gown cleaners use top-notch methods to clean, repair, and even protect your gown for years and generations to come. An AWGS-certified shop is even better, because you'll get the best quality results at the lowest possible price.
Trust an AWGS Certified Option with Top Ratings for D/FW Wedding Gown Cleaning
Whether it's our great online reviews, WeddingWire awards, or best-of's on TheKnot, Kite's Bridal of Fort Worth is an industry leader in gown cleaning, preservation, and even restoration, all across the D/FW metroplex. Kite's can provide MuseumCare™ preservation for your gown in tandem with your cleaning too, meaning an extra level of affordable protection for future generations.
Call Kite's at (866) 822-2554 for a free consultation at our Fort Worth location, and see just what we can do!