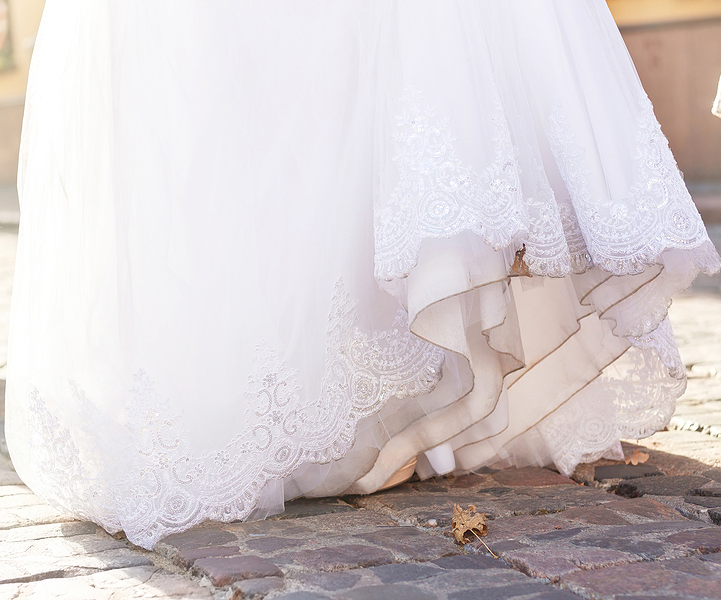 Cleaning and Repairing Wedding Gowns after Outdoor/Destination Ceremonies
The great outdoors can be beautiful for your wedding day, whether that's at one of Dallas's event spaces, the Texas Hill Country, or even some faraway destination. Whether your big day is around the corner or you've just celebrated, you might be wondering: what happens if mud, dirt, or sand gets on your perfectly white gown?
You can't just toss your wedding dress in a washer, and most dry cleaners won't be able to return the gown to its original color. So what do you do, especially if you're located near Ridglea, Westover, White Settlement, or TCU?
Specialized cleaning is available right here in the metroplex! Thanks to Kite's Bridal of Fort Worth, which is a "Best of" pick on both TheKnot and WeddingWire, Kite's can clean and/or preserve your dress for decades to come. Call 866-822-2554 for more information and a free evaluation for your gown, whether you're in Ft. Worth, Dallas, Highland Park, Southlake, or Arlington.
What makes a D/FW Wedding Gown Cleaner Unique compared to Dry Cleaning
Wedding dress cleaning is a process that requires the utmost attention to detail, plus special tools that dry cleaners don't utilize. A gown has lace, beads, and other delicate items that may need to be rigorously cleaned, but not altered or damaged. That's a challenge for gown cleaners that aren't AWGS-certified, like Kite's specialists are.
When it comes to removal of dirt, dust, or stains, you want to make sure that the dress can get the best clean possible. Then, you need to address what are known as "invisible" stains, like those from alcohol or sugars, which can appear months or years later. Kite's handles these and more when we clean for our clients all across Richland Hills, Grand Prairie, Hurst/Euless/Bedford, and Grapevine
Dallas/Fort Worth Wedding Dress Cleaning AND REPAIR!
OK, so you know by now that Kite's can clean your gown to the best possible standards, but what about repair? What happens if a dress gets a snag, rip, or tear during the ceremony? Well, the show must go on! But you don't want to leave such damages for extended periods of time, because they can get worse or warp.
Kite's Bridal specializes in cleaning your wedding gown, preserving your dress, and yes, repairs! You can rely on our AWGS membership, MuseumCare™ preservation standards, and high ratings on the most popular wedding review sites.
Call Kite's today at 866-822-2554 if you need your gown cleaned after your wedding. We serve clients in Benbrook, Allen, Plano, Weatherford, Garland, Pantego, Carrollton, Farmers Branch, and Burleson, so you're never too far away!
You'll have three keepsakes from your wedding day: your bands, your photos, and your dress, so why not give your gown the same respect that you give to your bands and photographer?