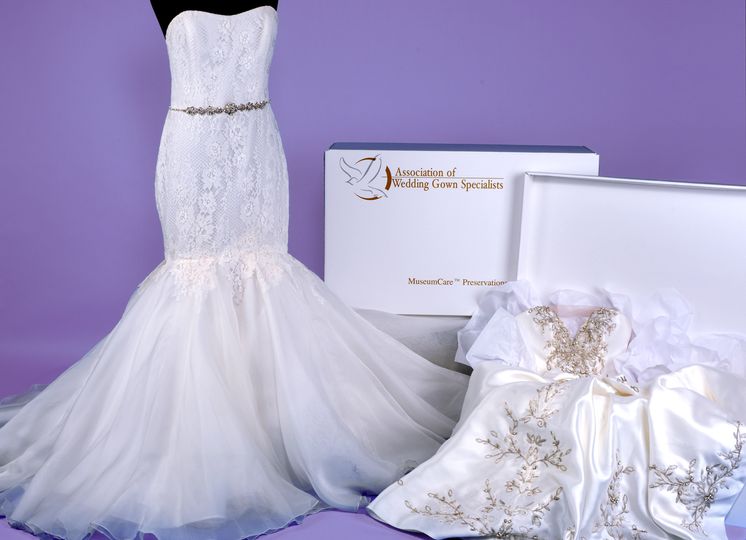 Save your Wedding Dress after your wedding day! | Ft. Worth Gown Preservation
There's no comparison when it comes to saving memories from one of the most special days of your life, your wedding day. In addition to the photos, videos, and guestbook, there's one item that stands above the rest, and that's your wedding gown.
But did you know that when it comes to Ft. Worth wedding gown preservation, no two programs are the same?
That's right. When it comes time to preserve your gown for your life and generations to come long after, trust Kite's Wedding Gown Specialists to do the job right in Fort Worth. Kite's is the only member of the Association of Wedding Gown Specialists in Ft. Worth, and we use museum-grade preservation techniques.
Call us today for a free consultation at (866) 811-1554, and begin your journey of wedding gown preservation. We serve the entire Ft. Worth area, including Westover, Clearfork, Hulen, Ridglea, Downtown, the Stockyards, Benbrook, White Settlement, Forest Hill, Richland Hills, and Haltom City.
How much does it cost to preserve a wedding dress in D/FW? | Kite's Gowns
It's a tough question, but we try to make our process as transparent and straightforward as possible at Kite's Gown Specialists of Ft. Worth. Because we devote so much detail to preserving every inch of your dress, we tailor our processes to match the amount of work your dress may or may not need.
When you call (866) 811-1554, we'll schedule time with you for a free consultation at our Alta Mere offices, where our wedding gown specialists can examine your dress, and calculate what a preservation would cost. Factors like stains, delicate materials, and surface area all factor into our quotes, because comprehensive preservation is what's most important to us.
We provide wedding dress preservation a stone's throw from River Oaks, Camp Bowie, Westworth Village, and TCU, and even if you find yourself outside of D/FW, our inclusion in the Association of Wedding Gown Specialists means any association member can assist you with a future need for your dress, especially if you plan for a child or grandchild to wear it again.
What's so special about museum quality wedding gown preservation?
Our Ft. Worth MuseumCare™ wedding gown preservation includes a series of complex steps, which ensure your gown will be preserved with the highest of standards.
First and foremost, we address visible stains like coffee and chocolate as well as invisible stains, commonly referred to as sugar stains, which dry clear but brown over time. Then, we treat and hand clean your gown exclusively, and don't clean it in combination with any other gowns. Finally, we package your gown in a muslin cover, which allows the fabric to breathe, which is necessary for the longevity of your gown preservation.
So no matter what corner of Ft. Worth you live in, Kite's is worth traveling for. We serve Edgecliff, Saginaw, Lake Worth, Weatherford, Azle, and Flower Mound too. In addition to our exclusive association credentials, our customers have only great things to say about their experiences with us, and we aim to add you to that list of happy clients!
Kite's Wedding Gown Specialists also cleans and restores wedding gowns, should preservation not be the right service for you. Call Kite's Wedding Gown Specialists at 866-811-1554 to schedule your free consultation.